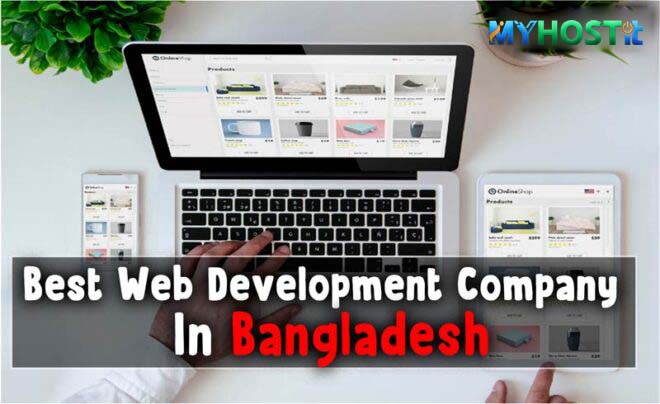 Posted on April 7, 2022 by myhostit.com
Do you want build your own website? Looking for smooth and supportive services in web design and development and software development? Well, the good thing is having a beautiful website of your own is easy and fast in Bangladesh as you are now dealing with the best web development company in bangladesh– MyHostit.
We are in this field for 4+ years and we are unstoppable. Myhostit is a well-known web design and Development Company in Bangladesh. It has the best creative team that provides a user-friendly web design and customized website package with affordable SSD web hosting.
A website is a reflection of the owner's personality.  So a user-friendly website is very much required to flourish your online business. Because nowadays online customers are smart and they like a smart website with cool design.
Do you live in Dhaka and searching for a web design company in Dhaka that will help you to develop a website? Then you are in the right place in right time.
Well, first of all, you have to know about the advantage of a responsive web design. A responsive web design helps to.
Improve the user's experience
Fast loading speed
Less bounce rate
Increases traffic
Easy to maintain
Simple website analytics.
How A Website Helps To Grow Your Business
Nowadays, it is easy to create a business online, but you have to ensure a good website with all the requirements. To make a website for your online business, you have to follow the steps below:
To build a website for your online business or a company, you have to get a domain with a proper name. This name will work as your signature in the way of your success. Though selecting a name is tricky and tough. For domain services you will find lots of domain company in bangladesh. But buy domains from a good domain provider to avoid the hassle of transferring domains in the future.
To make the name selection easy and fast, you have to follow the factors below:
Keep it short and memorable.
Don't use hyphens.
Make sure it is easy but smart.
Try to add relevant keywords.
Choose hosting.
Now it is the time to pick a hosting. While choosing the hosting, you have to follow the factors:
Choose the hosting per your need. First, determine the need then pick a good hosting.
There are three types of hosting types – shared, VPS and dedicated. Pick the one that will work for your site.
 While picking the hosting, do compare the other hosting to gain knowledge about storage, bandwidth and server.
You have to plan the stage to map the entire project. After planning the stage you have to make a user-friendly design to help the development easy. Then comes the content is that it is an important part of the development stage. There are so many website development company in Bangladesh. make some research before started your dream website. After completing all the factors, you are ready to launch your dream website.
After developing the website, you are ready to optimize the website. You can use the terms to find a business to stay on search engines by analyzing your industry. Then on-page optimization is required in the optimization work. Then comes the link building process as it helps to get a strong rank in the search result. Then you can go for SEO services to increase to reach the goal.
Why We Are The Best Web Development Company In Bangladesh
Myhostit is one of the best website design and development company in Bangladesh that is gradually contributing a lot of services like web design and development, Digital Marketing, SEO (Search engine optimization) for rank on google first page. We also contribute to mobile-apps, software development and e-commerce.
We value the trust of our clients and try our utmost to meet the expectation of our clients. We don't leave you just by building the website; we stay and grow together until success.
We implement these options on a website to generate leads to grow your online business:
This uniqueness helps you to stand out among billions of websites to show your clear message.
A website needs to ensure a fast loading speed because visitors are impatient to wait. And also, a good website with stunning UI enhances the website loading speed.
Unique content boosts the traffic on the website that helps to grow the online business.
We are fully active in all social media platforms as our customers are smart and like to stay involved in the social media platform. So they trust the website that is active on all social media platforms.
A secure website is mandatory because hackers look for an opportunity to try unethical ways to misuse different websites for the wrong reasons.
We listen to the requirements of our clients and also guide the clients if required. Together we work on a project till it gets successful.
It is important to make a website mobile responsive as maximum clients like to use tabs and mobiles.
Read More About: How To Start Ecommerce Business In Bangladesh
Conclusion
People are now moving to virtual business as this field is getting gigantic day by day. Bangladesh is also in the race and believe me you will get numerous options while looking for the best web development company in Bangladesh. Myhostit is one of them and will remain for the valuable clients with the best service in the town.